Curious Cures and Marvellous Medicines
21 September 2019 - 14 March 2020
An exhibition about health and medicine showcasing the medical instruments and packaging dating from late Victorians to mid 20th century held in the Social History Collection. The displays include objects donated from local surgeries and pharmacies in Rugby including: H Cook, Paddox Pharmacy and Fleet's Chemists

Fools Gold
25 January - 14 March 2020
Local artist Pamela Schilderman and London based Hayley Harrison present an exhibition interrogating the value of materials and their impact on our lives and the environment.

Lindsay Seers Extramission 2 (The Trilogy) and False Memory

A false memory is the recollection of something that did not happen or happened differently from the actual events, without consciously intending to deceive or mislead. In this exhibition national and international artists explore the production of fabricated, distorted, or misinterpreted memories.

"Memory itself is not stable. Each time a memory is re-visited the memory moment is re-written. It is built again like a photocopy that loses resolution". Lindsay Seers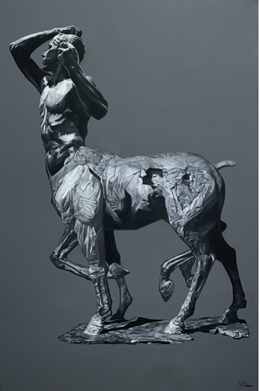 The Rugby Open Exhibition 2020
Rugby Open People's Choice Winner 2020 : Harry Barker, Centaur, 2020
Harry Barker is a Neoclassical painter drawing inspiration from art of the Renaissance whilst seamlessly adding a contemporary twist. To this end his paintings run closely with the ideology of human form and beauty from the 16th century. Centaur is a hybridised form of three statuesque elements the most recognisable being the human form taken from Auguste Rodin's The Age of Bronze, 1875 which is collaged onto the body and legs of two horse sculptures creating a very recognisable form within mythology, the centaur. Using a photorealistic painting technique, Trompe-l'œil, is used to create an optical illusion making the painting of a centaur appear as if it exists on the three-dimensional plane.